CALIFORNIA DREAMING
I've been living in Seattle for 14 years now and I really do love it. I like the vibrant downtown action of the city, the water views practically everywhere I turn - I've even become acclimated to the weather; cooler temperatures in the summer, crisp breezes off the sound in the evenings. There are however, a few things I really miss about California - besides my friends, or course.
In no particular order:
A) I miss Jacaranda tress. The beautiful shape, wide branching canopy, the heady scent and spectacular display of lavender leaves in the spring and summer! And the soft carpet of purple that the flowers create when they drop. What more could you want in a tree? Unless it's a...
B) Pepper tree! Towering, assymetrical shape, majestic shade provider. The delicate curving leaves and drooping tertiary branches make this tree a graceful addition to the California landscape.
As if that weren't enough, you also get the red berries hanging in festive clusters. If you're industrious enough, you can pick them and dry them and have fresh pepper for your mill. Did I mention the scent?
C) The beaches. Here's one of my favorites: Laguna Beach. One wide sandy beach, zillions of small sandy coves, cliffs, rocks below, tide pools, you can spend days swimming, sunning, surfing & exploring on the beach in Laguna and never get bored.
Another favorite - La Jolla (hoya) Beach. A bit further south and much smaller than Laguna, but just as spectacular. Big Cliffs and coves, with grassy play areas above. Lots of tidal pools and wildlife. An unexpected plus to both of these beaches - wild aloe grows along the cliffs - if you cut your foot or get sunburned, just break off a piece or two and rub the gel on your tender injured bits.
And a little bit further south is Coronado Beach on Coronado Island in San Diego. I think this is possibly the widest, longest, whitest beach in all of California. I've never seen it full - even when it's busy it feels kind of empty. In addition the sea bed is shallow and extends "way out" as we used to say when we were kids. The swimming, body surfing and bogey-boarding is great at this beach - you can catch a wave and ride for 50 or 60 yards, maybe more.
When you're tired of the beach, just take a walk to the famous Coronado Hotel (Some Like It Hot was filmed there) and have a drink in the cool bar.
Going back up the coast to the L.A. area there is Venice Beach. Actually the whole coast from Santa Monica down to Redondo Beach is great - it's all wide, sandy beaches with good surfing and swimming. The true gem of this stretch though is the boardwalk - it goes the entire length! It's not a boardwalk in the tradition of the old wooden style, but rather, a wide paved path that you can walk, roller skate, skateboard or bike on from one end to the other. I used to ride my bike from West Hollywood to Santa Monica, and then down the Boardwalk to Hermosa Beach and back to Venice, then take Pico Avenue home. I don't know how many miles that is, but I'd sleep for 12 hours afterwards!
One cannot talk about these beaches without mentioning the scene in Venice. How can I describe it? Street performers, sidewalk vendors, cafes, bars, pizza windows, Muscle Beach, music, people, people, dogs, more people. It's fabulous! You can't go to L.A. without checking out Venice - it would be a sin!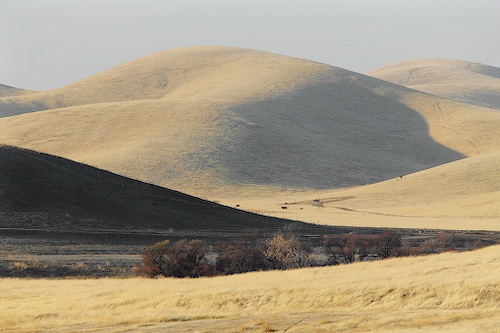 D) The golden hills...how I miss the golden hills. This picture doesn't do them justice, but I love the hills with the grass dried to a shimmering gold, rolling endlessly, dotted with sage and live oaks. All in all, Seattle is a bit too green for me, I'd like some Golden Hills to rest my eyes on.